If the tribe of feral elves known as the Wolfriders woke to a clear night sky and bright moon, they hunted. If the tribe woke to a cloudy night, they indulged in making mischief on the aboriginal humans. If the tribe woke to heavy rains, they mended leathers and memories. The chambers of living, hollowed-out Father Tree, which looked like nothing so much as giant ant boles, were none very big, but Wolfriders were small and did not mind close quarters any more than a den of wolf cubs did. They were always eager to share company on rainy nights.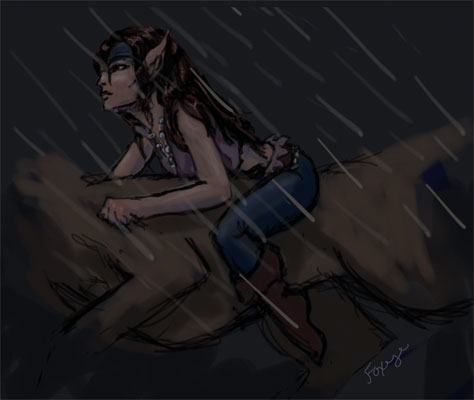 Not tonight, however, for one bedraggled elf.
Hair and leathers lay heavy on her frame. She swayed with the gait of the wolf she rode. He was running hard, urged on by the energy of her elf-friend. Though she and her burden were heavy with rain, Windchaser was a fast wolf, and her rider was a slip of an elf-child. No human could have seen them, nor fox smelled them, nor deer heard them, if there were any about in the torrent. The rain fell too hard, thick, and loud for any creature's senses.
Even the touching-sense was dulled. It was a cold rain, as rains were in the season of New Green, and the elf's hands were too numb to feel the fur that they clutched.
**Crescent?** The telepathic query of her closest friend, Eyes High, brought with it a moment's sensation of warm bodies and light from bear-fat candles. Eyes High was back at the Father Tree, listening to stories.
**Moonbow?**
Crescent tried to blink the rain from her eyelashes. Eyes High persisted in using her name as if it implied the union of the moon with a strung bow. Crescent was the daughter of Moonshade the tanner and Strongbow the archer, and the implication that she was a harmonious blend of their two natures was, to Eyes High, a pleasant consideration. To Crescent, however, and to much of the tribe, the name was best considered a representation of something lean, sharp, and, as far as moons were concerned, on the verge of changing. Sometimes disappearing. Sometimes pushing out more and more space for herself.
Crescent sent a mind-touch without words back to her friend. A confirmation of her attention.
**You are missing out on so much fun!** With Eyes High's sending Crescent could sense Pike's mind-touch as well, and she smiled. **Longreach is telling a story about Bite and his wolf Bluerump...we're laughing so hard we sound like migrating geese.** Crescent saw and felt through Eyes High that Longreach was imitating a wolf scratching its rectum on the dirt. Treestump stood above him, convulsing with laughter.
**Maybe you can tell it to me when I return?** Crescent hoped.
**Me? Oh, I wouldn't be as funny as Longreach. Most of the time he is so calm, so when he starts things like this...**
**I know.**
**Where are you?**
Windchaser stopped herself at the top of an eroded bank. Below them thrashed the stream, winding away into the gray haze of rain. Windchaser knew where to go and carefully made her way along the upper edge of the bank, slinking around the larger trunks and under the boughs of younger ones.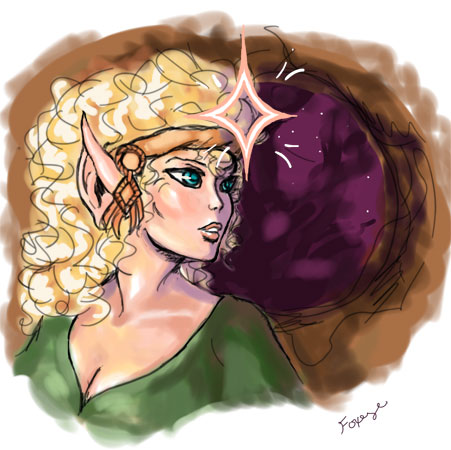 **Hunting small game.**
**Like last time. Crescent...why do you hunt everytime it rains like this? You sneak away without any other hunters.**
**I like hunting with only Windchaser.**
**But only when it rains!**
Crescent did not answer. Her dark eyes were straining to follow the stream. Even for an elf's eyes, it was hard to see in such a dark night.
**And you like to gaze at the sky,** she finally sent.
**Yes, but - **
**I like to hunt in the rain.**
**But humans!** Fear erupted out of Eyes High's mind into Crescents. **It isn't safe!!**
**Humans don't like the rain any more than we do. I don't need to be afraid of them.**
**Moonbow...**
**I'll be fine! Now stop worrying about me or you'll miss the ending.**
Crescent gently shut her mind to her friend. Telling Eyes High the complete truth would lead to further questions, and she was not in the mood to discuss what she did. She simply wanted to do.
The truth was that for what she hunted, the rain was ideal. It was something she chose not to share with the tribe. There were times when a Wolfrider began to do something considered not part of the WolfSong, and this was Crescent's time for that.
Their down-stream journey ended at a small pool in the stream, as long as a hand of bears standing nose to tail, and five bears wide. Crescent swung her leg off of Windchaser. Free of her rider, Windchaser quickly found herself an overhanging ledge where she could hide from the downpour. The surface water jumped, tiny craters created and lost in less than moments, hiding whether the pool was normally calm or turgid.
Crescent peeled her breeches and vest from her skin. She tightened her knife belt. She was already numb, but she did not want to be heavy or clumsy as well. By Timmain's Tail, I remember this being much more pleasant when the days were longer! Her shoulders tensed in expectation and she stepped off of the bank into the water.
Timmorn's Blood! It was cold. Windchaser reproached her with her golden eyes. Crescent stepped with caution. It was impossible to see her feet and nearly so to feel them. The bottom of the pool was mostly pebble. There was no sand to be stirred upward by her movements or by the gyrating surface. Tiny silvery folds of the eye scattered away from her calves. The minnows chased each other throughout the water, hunting the tiny pool prey that minnows hunted. Crescent froze. Her legs were braced wide and her arms hovered around her waist, hands open and tense. Dark, thick locks adhered down her forehead and cheeks and shoulders. Violet eyes reflected the barest of the darkness, but gazed down hard at the water. This was a huntress. The intensity and focus seen in the eye of Strongbow along the shaft of a strung arrow vibrated through the drenched and gaunt body. Violet eyes narrowed into concealed caverns. Her frostbitten ears shivered.
Her skin was not so numb yet that movement of the water around her knees and calves was undetectable. Just so, the rain clouds made the sky dark, but not entirely black. It was with the slightest of night glows and the barest of touches that she focused. Under the gyrations of the surface were other disturbances. The ripples of the water reflected inky black as well as faint silver/blue. Under the ripples of silver were deeper, subtler, longer gleams of silver. They moved the water. They nosed the surface. They came to dance their fluid silver dance when the sky was dark and the rain brought the pool to life. It was here, at last, that Crescent felt that her name aptly chosen. These dancers were silver slips of a crescent moon that she was named for.
A quick clench of the jaw. Her butt and back tensed. Hands shot into the water and reemerged holding a thrashing, startled, fish. Crescent flung the fish onto the nearby bank. She had little time to revel, but her hands remembered the slickness and strength of the streamline body.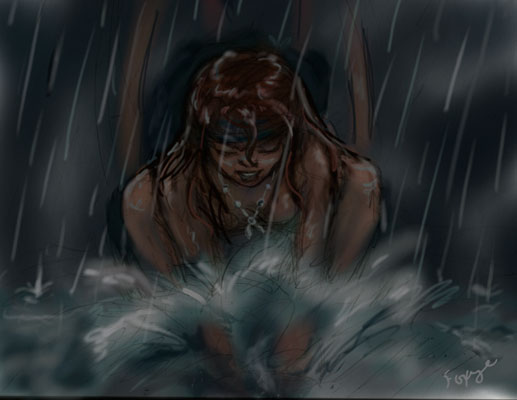 It was the simplest of hunts. No tracking. No arrows and spears. No chasing. Only the patience to be still. Waiting. Feeling. Balancing. Focusing. To move before time was failure. To move too slow at the necessary moment was to find your hands empty. If the prey was caught, it was never a wounded beast. It thrashed with a strength of a creature that was all limb and no torso. If it didn't slip from her hands before she had a firm grasp within the water, it was sometimes lost when she threw it.
Crescent knew well that this hunt was utterly un-Wolfrider, but it was utterly enthralling. The creatures loved nighttime best, and for reasons she did not seek to understand, were brought from their hidey-holes when heavy rain played with the pool. So here she was, risking cold-sickness, for a hunt. A new kind of hunt.
These fish were large enough that two filled her stomach. To her dismay, there was no reason to ever catch more. No other elves enjoyed the taste of fish. Or so she assumed. She had not asked, of course, but certainly Bearclaw would sneer at the idea of enjoying the pale flesh.
Let him sneer, she consoled herself. I get rotgut far less often when I fill my stomach with these.
Crescent had to attempt three more times before she successfully flung another fish onto the bank. That done, she walked out of the pool and used her knife to cut where she thought the throat of the fish to be. Crescent crouched under a small but thickly-needled tree. She cut the white flesh of the fish away from their bones, and scraped away scales, some falling to cling to her skin. The creamy flesh had a tangy flavor. Not so thick as red meat, but as juicy.
When summer came, she would eat her fish with leisure. No sooner. She was risking the cold-sickness. She had to eat quickly, put on leathers that she had wrung dry, and return to the holt. The tribe was busy with their stories. She would not be noticed in her furs until the next night when she was called for hunt.
---
Woodlock was the only one to see Crescent return. He held a boarskin cloak over his head and shoulders to shield away the rain. Curious pale eyes watched the young elf climb up the side of the Father Tree and crawl into her small den. He remembered Strongbow's troubled expression earlier. He suspected that the cub was responsible.